About WhoisDS Web Service
With support for 1755 TLDs, our cloud-based API lets you quickly access any domain's whois database through Bulk Whois Lookup, Newly Registered Domains, Dropped Deleted Domains, Expiring Domains and Whois Database Download.
New Features in Whois Database
WhoisDS is one of the leading WHOIS database provider of newly registered domains and bulk whois database, launch full-cleaned WHOIS database of US, UK, France, Brazil, UAE, Canada, Australia, India, Germany.
In the database mentioned above you get cleaned WHOIS database of Newly Registered Domains on daily basis. All the data is updated in your panel, all you need to do is to just download the data from your panel using your credentials. In cleaned database we delete privacy domains & incorrect numbers etc.
All the cleaned data will be updated before 12.00 PM (IST). If you want any further information than you can use our online chat option, Our Technical Support & Sales staff is available from 10.00 AM to 01.00 AM (IST).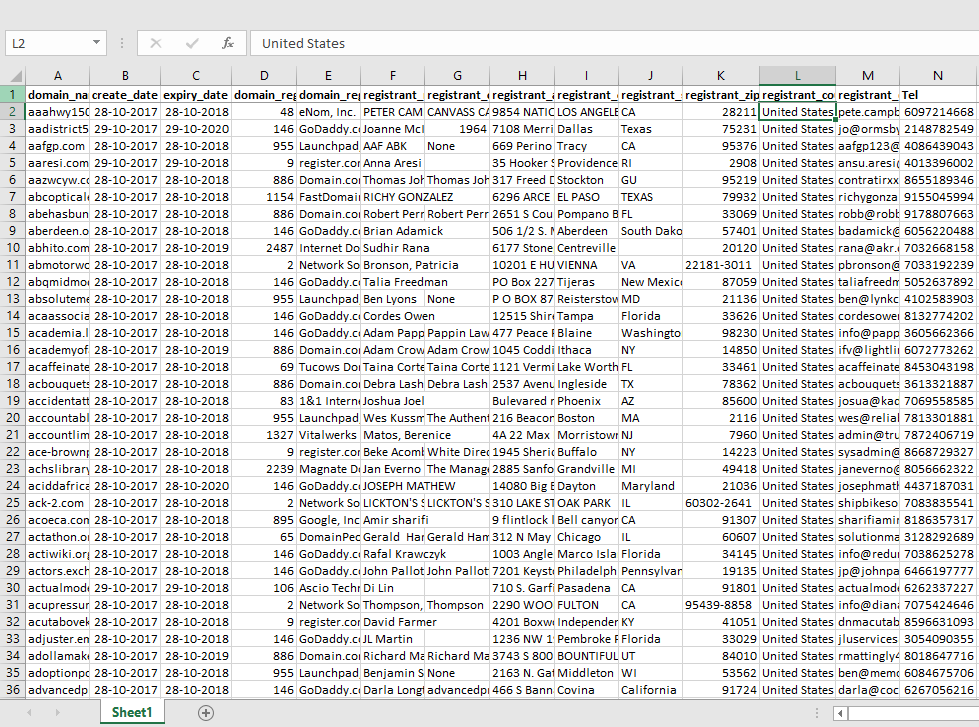 If you are subscribed for Global Whois Database of Newly Registered Domains than you also get the data of above countries on daily basis. If you want any additional country than it will cost you $25/month per country. For more detail please download a sample data listed below.
Database Updated Daily
Each whois database contains list of newly registered domain names along with their whois records. The whois records contains contact details of the domain owner, and other information like name servers and domain status.
30 Days Of Historical Data
You will be able to download daily whois database of the previous 30 days. In total, you will get access to the whois database of all the domain names that were registered within last month. We remove databases after 30 days.
Full List of All Domains
We provide customers with a full list of all domain names as well as a full list of all domains with their whois information - even if the whois information is private, we'll still provide it in this list in case you find it useful.
Popular Domain Extensions
We provide whois databases for all the major domain extensions. For example, we provide databases for the following: .COM, .NET, .ORG, .INFO, .US, .BIZ, .MOBI, .NAME, .PRO, .ASIA, .TEL and all popular ngTLDs.
Extremely Affordable Pricing
After your 3-day free trial, the cost of our service is only $65/month. To create a system like ours, it would cost thousands of dollars per month in server costs, developments fees, and numerous other expenses.
Unlimited Potential Leads
Regardless of how you choose to use our databases, they're an awesome source of leads for your business. Some customers target website owners that live near them, others target them by profession and niche.
---
A database is generated every day containing WHOIS of newly registered domains. This database contain whois data records of domain names registered on the previous day. It may also include domains from previous 10 days which could not make into earlier databases.
---
Frequently Asked Questions
What's in the WHOIS?
The WHOIS database is a searchable list of every single domain currently registered in the world. To find out who owns a particular domain name, all you have to do is type it into the box of whois lookup.
How is the Complete Whois Database collected?
Each time a domain name's WHOIS information is fetched through our Whois Lookup API, it's record is stored into our complete whois database. Domain names that are not registered or records containing empty whois information are discarded and never enters our complete database. We only store records which contain valid whois data of the domain name.
In which format will I receive the download file?
You will get ZIP files containing all the WHOIS records in CSV format. Please download sample file which is taken from the complete whois database.
Can I get daily database of newly registered ccTLD domains?
Most of the ccTLD registrars (including .IN, .UK, .AU, .HU) do not publish the list of newly registered domain names. So we are unable to provide you a daily database of newly registered ccTLD domains at this time.
How many day's whois database will I get to download?
You will be able to download daily whois database of previous 30 days. In total, you will get access to the whois data of all the domain names that were registered within last 1 month. Each day's database is separated into a single ZIP file.
If you still have any questions, please mail us at
or call on +1 71835 48358 / +91-94220 42220